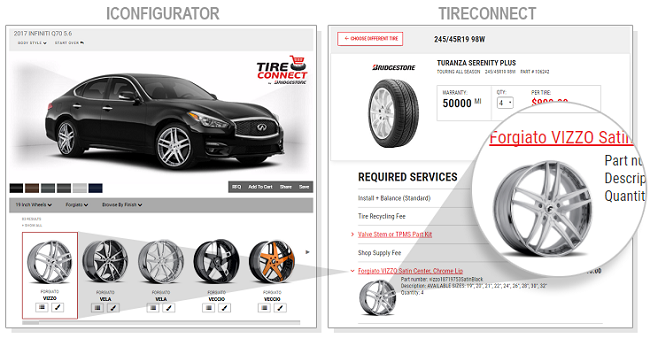 TireConnect is happy to announce a partnership with Icon Internet Media. Full integration with the industry leading wheel visualization tool, iConfigurator!
iConfigurator is a business to a business tool that gives tire dealers the ability to show their customers which wheels and accessories are available for their vehicle and what the upgrades will realistically look like.
By using TireConnect and iConfigurator, customers can now buy wheel and tire packages seamlessly. The customer begins in the iConfigurator tool, where they can choose the perfect wheels for their vehicle. After adding wheels to their cart, they then have the option to 'Select Tires', and transfer the order along with fitment data to TireConnect.
In TireConnect, tires matching the customer's chosen wheel will be displayed. After selecting the appropriate tires, customers are sent to the summary page, where both the wheels and tires can be quoted or purchased.
iConfigurator Features
Industry leading wheel visualization tool
Thousands of wheels and accessories for cars and trucks.
Updated daily with new vehicles and products.
Integration Benefits
Seamlessly integrates with TireConnect.
Enable customers to purchase wheels and tires in same transaction.
Easily integrates into your existing website.